Wood Weave Panels
Cedan Industries inc has created a new collection of woven wood-strip veneer. The warmth and richness of wood is accentuated by this original way of creating a surface using wood strips with standard or varying widhts, inter-woven at different angles.

An entire range of local or exotic wood varieties can be used in the composition of the surface, thereby contributing tthe decorating styles of modern-day kitchens, bathrooms, family rooms, or even bedrooms.

Whether covering cabinets or entire rooms, the unique character of this product will add an exotic touch tthe overall effect. Strips pre-sanded with 180 grit paper provide a surface finish that does not require touch-ups. A high quality orbital tool can be used if touch-ups ever become necessary. Pre-varnished sheets with UV lacquer, whose characteristics ensure superior appearance and durability. Medium gloss, natural color.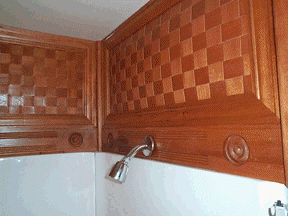 Characteristics:
Sheets are glued ta frame of particleboard or plywood, on a background of the same type as the woven surface.
Standard thickness on laminate 0.080" (2mm), plywood 0.240" (6mm), on particleboard 0.700 (18mm).
Standard size sheet 44" x 94" (1110 x 2390 mm) Strips 2" (50mm)
Custom sizes can be executed in reasonable minimum quantities.